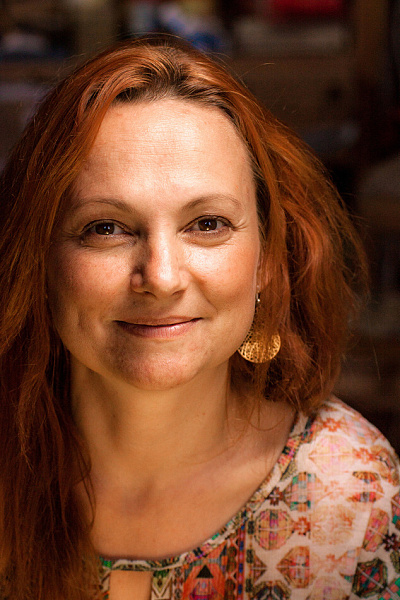 Born
3rd January 1971 in Jablonec nad Nisou
MOTTO
" Follow your heart"
…The most valuable gift of life is the space to exist and create
Behind the beauty of the superficial form, there is something more: something we cannot give a name to, some kind of deep, inner, sacred essence…
Currently I live in Jablonec nad Nisou and I paint, I make drawings and paintings inspired by beauty, love and magic of life. I paint what I see with my eyes, but mainly how I perceive life and its essence with my heart, because what is important, is invisible to eyes…
In Jablonec I also lead a private art atelier for children and adults who would like to learn to draw and paint with their heart.
Academic painter Blanka Brožová is the representative of postmodernists from the nineties, although she surpasses them and has her own specific style. Her outstanding autograph is besides other things based on techniques that evolved in her painting from drawing with charcoal and pencil, through crayon and aquarelle until more complicated creations with crayon on canvas sometimes supplemented with glass cut stones and until more detailed aquarelles. Hand in hand with this, also the color wheel transformed from temperate darkened charcoal grey until harmonic optimistic joy, which still stays moderate and dreamy in a way.
The work of Blanka Brožová is an intimate confession. She is not looking for and not making grand gestures. The fascinating thing in her work is her strong alter ego, which confidently shows the inner world of the author. She is very aware of her belonging and connection with the higher principle and humanity as such. Blanka Brožová's paintings are not lonely testimonies, but an effort for further communication with the audience, to whom she offers an answer and also another point of view.
/Miroslav Pavel/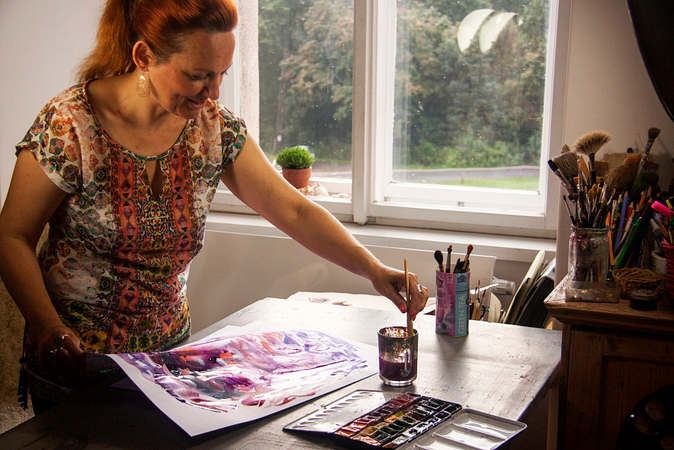 Study
1990 – 1996  Academy of Fine Arts in Prague, school of drawing of prof. Jitka Svobodová
1993 – 1994  Royal Academy of Fine Arts in Brussels, atelier of painting
1991 – 1995  Theological faculty, Charles University in Prague
1986 – 1989  School of fine arts of Václav Hollar in Prague
Solo exhibitions
2022 "Landscape and imagination" Municipal theatre in Jablonec nad nisou
2020 "Garden" Regional office exhibition hall,Liberec
2018 "On the verge of obscurity,Nativ gallery,Prague
2017 "On light",Liberec
2017 "Color vibrations",Detesk Galerie,Železný Brod
2017 "Subtleties",Municipal theatre,Jablonec nad Nisou
2013 "Lenka T. and Blanka Brožová", Praha Dr. Tresnak
2013 "From my world" Jablonec, art café La Kavárna
2012 " Aromatic roads" Praha, Rafaella Gallery of artists and perfumes
2011 "Landscape of a woman" Municipal theatre Jablonec n.N.
2011 " Dessous bilder" Sand in Taufers, Italy
2009″ Fruit of the trees of paradise" Gallery Michal´s Collection,Praha
2009 Municipal theatre Jablonec nad Nisou
2008 Čajovna V síti, Praha Vinohrady
2007 Gallery MY, Jablonec n.N.
2005 Gallery u Artuše, Kroměříž
2004 HVB Bank Liberec
2002 Municipal theatre Jablonec n. N.
1999 Opus Musicum, Praha
1999 Klub Zdraví, Liberec
1998 Gallery MY, Jablonec n. N.
1998 Museum in Turnov
1995 exhibition in Rychnov u Jablonec n. N.
Participation on exhibitions


2010 Art Monaco 2010
2009 Art Prague – fair of contemporary art
2006 Self-portrait, galerie MY, Jablonec n.N.
2002 III. biennale of drawing Plzeň 2002
2000 II. biennale of drawing Plzeň 2000
2000 Vox Humana 2000, Ostrava, Brno, Praha
1996 New Testament in art, Praha
1996 graduates AVU 1996, Praha
1994 atelier of drawing, gallery in Klatovy
1990 students of AVU, Praha, palác U Hybernů